Description
**This item is a custom built driver and this listing is for the head only. A shaft must be purchased with the driver.**
At time of purchase, please add your desired shaft and include any build specs in your order notes. 
OR
After purchase, you will be contacted for your build specs and requested shaft (if not purchased together).
Introducing Proto Concept C01D Driver. The proto-concept "C01D" is characterized by its high energy efficiency and thick impact by the unique technology of the world's best manufacturing factory. The forged cup face born from patented technology brings an unparalleled feel and a strong trajectory of liner, and stimulates the golfer's sensibility.
The trajectory is beyond the image.
The club is the identity of the golfer. This is the proposal of "PROTO-CONCEPT". What club you choose and put in your bag is a testament to your playing style.
The style proposed by "C01D" is real golf. Improve your senses and capture the fairway with the strong trajectory you envisioned. The response and flight distance uplift the golfer and make us feel the next nice spray.
The joy that only the real thing has.
C01D" has a unique center of gravity design that pursues ease of swinging, handling, and catching a ball while having a moment of inertia that exceeds that of an average driver. The impact of the ball being eaten more and the head performance that produces a finish that can be shaken off is a driver who can feel the joy of that one stroke.
for a driver, it is natural to fly. Beyond that, it leads to the pleasure that only golfers can have.
QUATTRO FORGED FACE
"C01D" is manufactured by a forging factory with the world's highest technology. In recent years, the company has been reluctant to manufacture woods, but by resonating with the idea of ​​"PROTO-CONCEPT" that "all possible functions, materials, techniques, etc. are incorporated" in small-quantity production, "C01D" Was born.
The forged cup face "QUATTRO FORGED FACE" born from the patented technology is a transcendental technology that cannot be imitated by other companies, which is to make a complicated wall thickness according to the design value by one forging from a round bar of high strength titanium. It is made. It has made it possible to commercialize products with high coefficient of restitution without taking a margin of coefficient of restitution.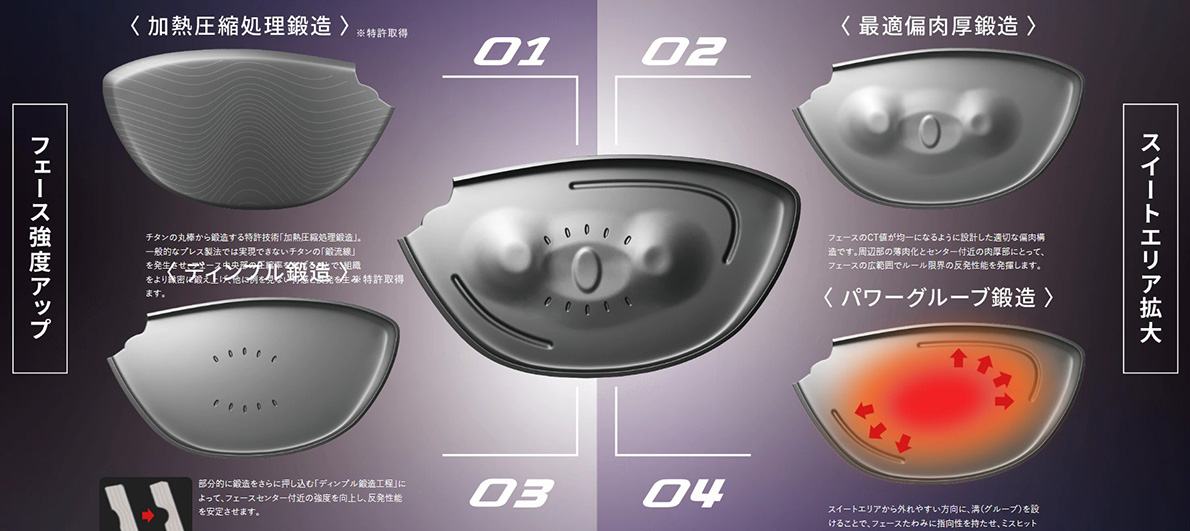 SPECIFICATION
Head Size (cc)
460
Loft (°)
9.5
10.5
11.5
Lie (°)
62
FA
± 0
Weight (g)
202 202
Production Method / Material
FACE / ELF-Ti "QUATTRO FORGED CUPFACE" LASER MILLING
BODY / 6-4Ti Super Precision Casting
| Outer mark | Inner mark | Rye angle | Face angle |
| --- | --- | --- | --- |
| ● | NEUTRAL | 62 | Square |
| + | FA +1.0 | 61 | Closed 1 ° |
| | | FLAT | 60 | Square |
| - | FA-1.0 | 61 | Open 1 ° |
shaft
Standard length
flex
balance
weight
[Graphite design]
TOUR AD XC 50
45.25 inch
S
D2
(* Reference value)
Shaft weight 50g stand: 310g
Shaft weight 60g stand: 316g
Shaft weight 70g stand: 322g
TOUR AD XC 60
45.00 inch
TOUR AD XC 70
45.00 inch
TOUR AD HD 50
45.25 inch
TOUR AD HD 60
45.00 inch
TOUR AD HD 70
45.00 inch
TOUR AD PT HIGH MODULUS 50
45.25 inch
TOUR AD PT HIGH MODULUS 60
45.00 inch
TOUR AD PT HIGH MODULUS 70
45.00 inch
aG33-4
45.25 inch
aG33-5
45.25 inch
[Mitsubishi Chemical]
Where is TB 50
45.25 inch
S
D2
Where TB 60
45.00 inch
Where TB 70
45.00 inch
Diamana D-LIMITED 50
45.25 inch
Diamana D-LIMITED 60
45.00 inch
Diamana D-LIMITED 70
45.00 inch
TENSEI CK Pro Orange 50
45.25 inch
TENSEI CK Pro Orange 60
45.25 inch
TENSEI CK Pro Orange 70
45.00 inch
TENSEI Pro White 1K 50
45.25 inch
TENSEI Pro White 1K 60
45.25 inch
TENSEI Pro White 1K 70
45.00 inch
[Fujikura]
Speeder EVOLUTION Ⅶ 569
45.25 inch
S
D2
Speeder EVOLUTION Ⅶ 661
45.00 inch
Speeder EVOLUTION Ⅶ 757
45.00 inch
WINDOWS RED 5
45.25 inch
WINDOWS RED 6
45.00 inch
WINDOWS RED 7
45.00 inch
VENTUS BLACK 5
45.25 inch
VENTUS BLACK 6
45.00 inch
VENTUS BLACK 7
45.00 inch
[UST Mamiya]
ATTAS 11 (Jack) 5
45.25 inch
S
D2
ATTAS 11 (Jack) 6
45.00 inch
ATTAS 11 (Jack) 7
45.00 inch
ATTAS DAAAS 5
45.25 inch
ATTAS DAAAS 6
45.00 inch
ATTAS DAAAS 7
45.00 inch

Proto Concept C01D Custom Driver
$1,200.00